Helmet (full face or bike helmet), back protector (or protector backpack) are mandatory (gloves and other joint protectors recommended) !
Opening hours from 10/29/23
We are open on the days marked green in the calendar.
Hours are from 10 a.m. to 4 p.m. 
There are day tickets and 4 hour tickets.
Tickets are available online or at the kiosk office.
Day tickets from 10 a.m. to 4 p.m.
4 hours from 10am to 2pm and 12am - 4pm
Online Tickets
Ticket sales are only activated if days are marked green in the calendar.
Here are the Tickets
After the purchase you will receive a ticket (mobile phone / PDF) that you have to exchange for a valid card on site!
Tickets are only valid with a barcode and the same date.
(Please note when ordering online, tickets without a barcode or the wrong date are invalid)
As the bike park is open in all weather conditions, it is not possible to return tickets due to rainy weather.
Tickets & Rates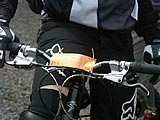 Adult
Born in 2005 or older
Juniors*
Born in 2006 or younger
Day pass
27.00 Euro
21.00 Euro
4-hour pass**
20.30 Euro
16.40 Euro
Extension pass***
7.00 Euro
5.00 Euro
* You have to prove your age with a valid photo ID.
** For organizational reasons, the 4-hour pass is issued from 10 a.m., 12 p.m. and 1 p.m
*** Only available in combination with a 4-hour pass. Extends the 4-hour pass on the day of its validity to a day pass.
Children, born in 2016 or younger, are free.
Price list valid from October 6, 2023
Policy Note:
By purchaseing a ticket you agree to the park policy and accept that refunds will not be given for downtime due to force majeure.
What you do on the way down the trails is solely up to you - Bikepark Beerfelden will not accept any responsibility for any injury to any persons or damage to any bike at any time whilst using the trails. Refunds will not be given as a result of damage or injury. Riding out of hours is prohibited. You are obligated to wear a helmet as well as a back protector. We strongly suggest that full face helmets, full length gloves and biking armor be used in the Bike Park!